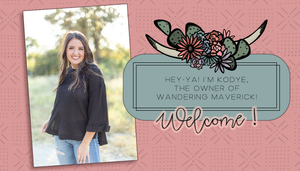 Our Story
I'm Kodye, the owner of Wandering Maverick Boutique! 
I started Wandering Maverick Boutique in January 2018, while I was a freshman at Texas A&M University. It blows my mind every day, that WMB has turned into what it is. I credit all of that back to the amazing customers and community that we have.
Wandering Maverick has 3 main goals. 
1. Support Women in Agriculture
2. Advocate For Agriculture
3. Support Agriculture Education
A little bit more about me:
I grew up on a large commercial cow/calf operation in South Texas. I was active in 4H & FFA with showing steers and lambs, leadership roles, and livestock judging. I graduated from Texas A&M University in May of 2021 with a Poultry Science Degree. I married my husband, Chris aka Mr. WMB, on September 3, 2022! I love dove chocolate, salsa and queso, and frozen margaritas. I have big travel goals! My favorite thing to do with WMB is to go to shows, and meet as many customers as we can.
I love using our platform to #AGvocate and #SupportWomenInAgriculture. As an agriculturist, it is so vital to be proactive and advocate for our industries. What's the easiest way to do that? Wear it on a t-shirt! It makes you a walking billboard. Thanks for being apart of our community at WMB. Reach out on social media or email if you ever need anything! Our team would be more than happy to assist you.